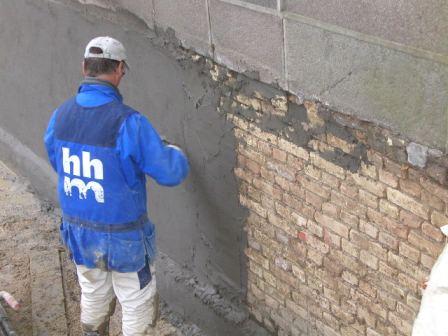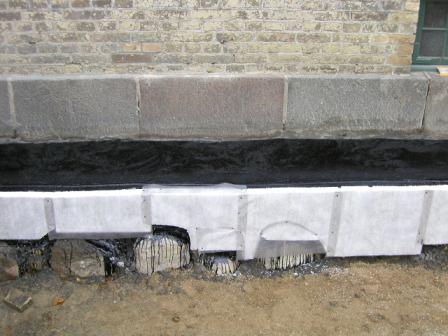 Moisture protection of exterior basement wall
Building Type 2: 1890-1920
Exterior basement walls of brick can be stressed by rising damp from the subsoil (see separate article) or damp seeping in from the surrounding subsurface. The latter may be augmented by high groundwater levels, leaky sewers or a lack of rainwater drainage along the building due to lack of hard surfaces or ground slopes. If seeping damp is established as the cause and is placing strain on the basement wall, external mechanical moisture protection can be implemented, which prevents damp from reaching the wall and also raises the temperature of the wall, resulting in a reduced moisture content.
There are a number of materials for and methods of moisture protection (either with or without a heat-insulating effect), but common to them all is the necessary exposure and renovation of the exterior basement wall, by means of e.g. raking damaged joints followed by rendering, prior to the drainage and/or insulating materials being fitted. Moisture protection of an exterior basement wall must always be combined with the elimination, or at least reduction, of the cause of moisture loading, as well as the effective draining of adjacent soil layers.
Among professionals opinion is divided about the extent to which basement walls should be tarred following rendering (as shown in the bottom left photo), but this must be left to professional judgement in each case. Tarring provides an impermeable membrane, but one disadvantage of this treatment could be that the moisture in the wall rises further up the building unless an effective horizontal moisture barrier is introduced at the same time. In addition, there may be an environmental aspect involved in applying a tar product that comes into more or less direct contact with the building's surroundings.
Further information is available from SBi:
Fugt i bygninger (Moisture in Buildings)
, GI:
Fugt (Damp)
or BYG-ERFA:
Fugtskader i ældre kældre (Moisture damage in older basements)
Photos: COWI A/S