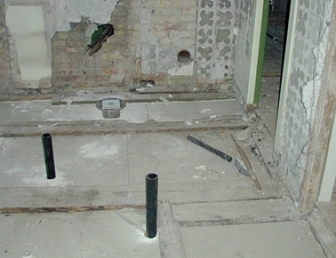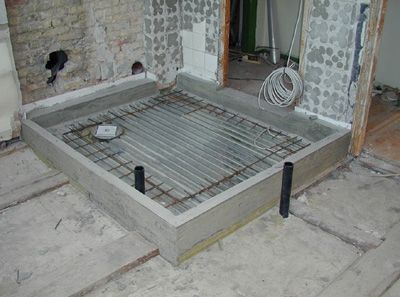 Construction of wet room floors
Building types 1 and 2: 1850-1920
The implementation of wet rooms (bathrooms) in older properties requires special constructional measures and care in execution. There are a variety of construction methods that probably give the same functional result but vary in terms of their durability and maintenance needs.
Publicly funded building renovations during the period 1970-2000 led to the fitting of bathrooms in thousands of older homes which were previously without baths. During this period, many different types of wet room constructions were developed and trialled, but conventions for the safe construction of wet room solutions were not defined until the 1990s.
When building a "heavy" wet room solution, a typical floor construction will consist of the following materials (starting from the inside of the bathroom): Moisture-repellent layer (e.g. ceramic clinker), adhesives, liquid lubricating membrane, min. 35-mm screed coat (C100/400), min. 60-mm reinforced concrete layer (concrete 15, concrete iron R7 per 140 x 140 mm), dovetail sheets, adapted (75 mm) mineral wool and existing pugging boards or new pugging of three layers of plaster. When using floor drains, reinforcement is carried out with the collars of angle bars on the pugging, which is embedded in the floor slabs.
You can find further information at
www.godevaadrum.dk
Photos: Triarc Arkitekter ApS and Arne Elkjær A/S, Consulting Engineers