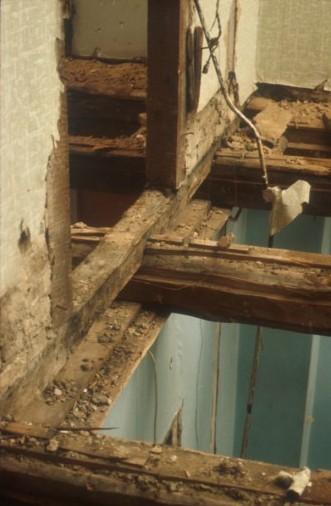 Repairing timberwork
Building Type 1: 1850-1890
Timber frames appear in the wall structures of Danish buildings right up to the end of the 1800s. A timber frame consists of a timber skeleton and masonry, otherwise known as brick panels.
Timberwork in exterior walls is exposed to the weather and therefore requires a great deal of maintenance to prevent it deteriorating, while timberwork in interior (partition) walls is normally protected and becomes at risk of deterioration only where the internal walls abut the exterior walls or where they are in contact with damp foundations or condensation arising from water-bearing installations.  
Timberwork can be repaired in a variety of ways, depending on the extent of the damage, the degree of precision required in the repair work and whether the timber is visible or hidden by plasterwork. Naturally, consideration should be given also to the timber frame's static function, which should not be weakened by the repair.  
The Centre for the Conservation of Heritage Buildings (Center for Bygningsbevaring) based in Raadvad published a booklet in 2006 entitled
Istandsættelse af bindingsværk
(Renovation of Timberwork), which gives a basic introduction to the investigation and renovation of timberwork and timber-framed walls. The booklet also gives an illustrated overview of relevant timber joints and partial repairs.  
Photo: Jesper Engelmark